Met Gala 2023: Alle Looks des Fashion-Events des Jahres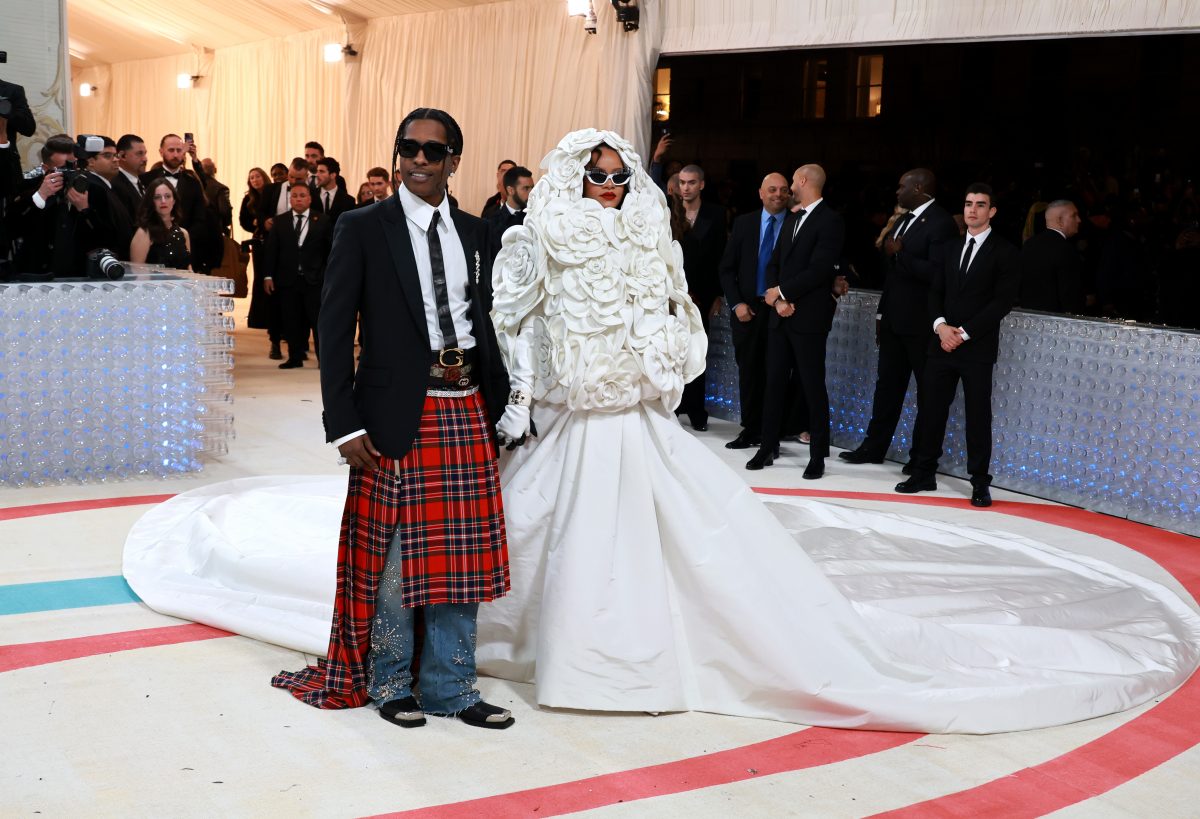 In der Nacht von Montag auf Dienstag war es wieder so weit: bei der legendären Met Gala 2023 – DEM Fashion-Event des Jahres – präsentierten unzählige Stars ihre schönsten und teilweise außergewöhnlichsten Looks am Red Carpet.
Die diesjährige Met Gala fand zu Ehren des verstorbenen Modedesigners Karl Lagerfeld statt.
Met Gala 2023: Die Looks vom Red Carpet
Es ist das wichtigste Fashion-Event des Jahres, der Super Bowl der Modewelt: die Met Gala im New Yorker Metropolitan Museum of Art, bei der unzählige Stars die neueste Ausstellung des Museums feiern und Spenden für das Costume Institute gesammelt werden. Das Highlight der Charity-Gala: die spektakulären, schillernden und außergewöhnlichen Roben und Outfits der Hollywood-Stars. Dieses Jahr stand die Met Gala 2023 ganz im Zeichen von Modezar Karl Lagerfeld – und das spiegelte sich auch in den Looks am Red Carpet wider.
Während es von der Gala selbst so gut wie keine Fotos oder Videos gibt (bei der Met Gala gilt strenges Social-Media-Verbot), sind die Auftritte der Stars am Red Carpet des Fashion-Fundraisers umso aufregender. Und vor allem auch voller Überraschungen, denn im Vorfeld ist lange nicht klar, wer zu den Oscars der Modewelt geladen ist. Die Gästeliste der Met Gala ist nämlich ein streng gehütetes Geheimnis, lediglich die Co-Hots der Veranstaltung sind im Vorhinein fix bestätigt. Dazu zählen heuer Michaela Coel, Penélope Cruz, Dua Lipa, Roger Federer und natürlich Gastgeberin und Vogue-Chefredakteurin Anna Wintour. Übrigens: Auch Karl Lagerfelds Katze Choupette soll zur Met Gala eingeladen worden sein. Die sagte im Vorfeld aber bereits ab – der Abend sei für sich zu anstrengend …
Ganz fern blieb Choupette dem roten Teppich jedoch nicht, denn auch die Katze des Modezars spiegelt sich in so manchen Looks der Stars wider. Neben seinem liebsten Haustier spielten natürlich auch andere Meilensteine des Designers eine Rolle bei der Outfit-Wahl der Stars. Wir zeigen euch alle Looks der Met Gala 2023 unter dem Motto "Karl Lagerfeld: A Line Of Beauty"!
Pedro Pascal
The Internet's Daddy has arrived: Pedro Pascal glänzt bei der diesjährigen Met Gala in Valentino!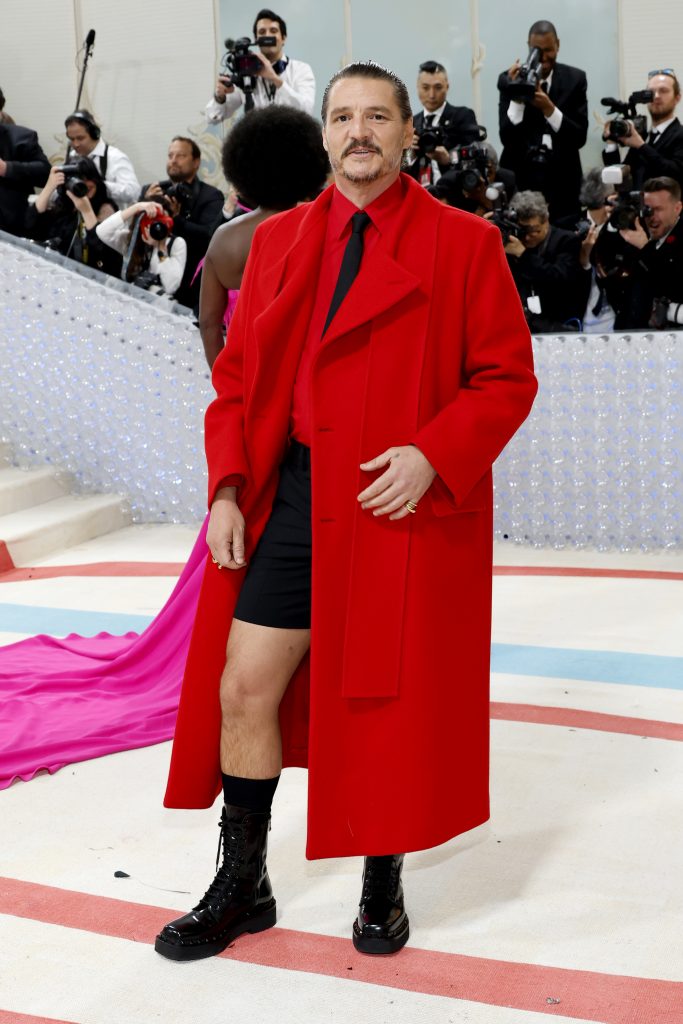 Rita Ora & Taika Waititi
Hot, hotter, Rita Ora! Die Sängerin trägt ein Kleid von Prabal Gurung. Und auch ihr Ehemann Taika Waititi beweist: er versteht etwas von Fashion. Dass er nicht im Basic-Anzug am Red Carpet erscheint, weiß auch die Online-Community zu schätzen und feiert Taika dafür auf Twitter & Co.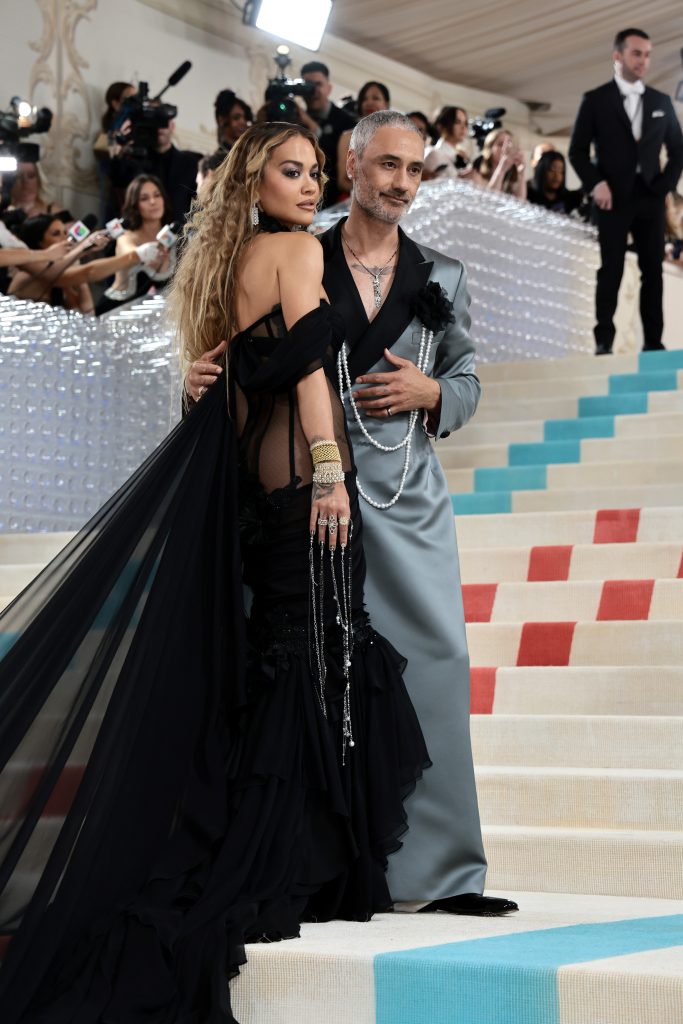 Halle Bailey
Ein Gucci-Traum in weiß! Arielle aka Halle Bailey und ihre Hommage an Karl Lagerfeld.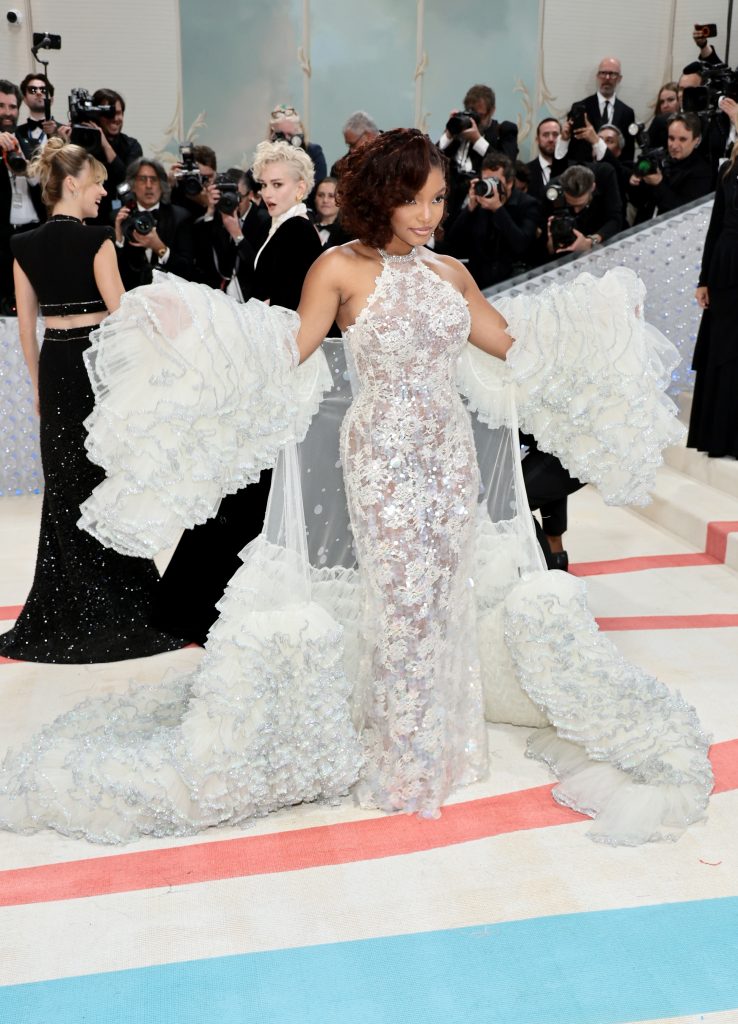 Naomi Campbell
Model Naomi Campbell in einem Chanel-Kleid aus der Spring/Summer Couture Collection 2010.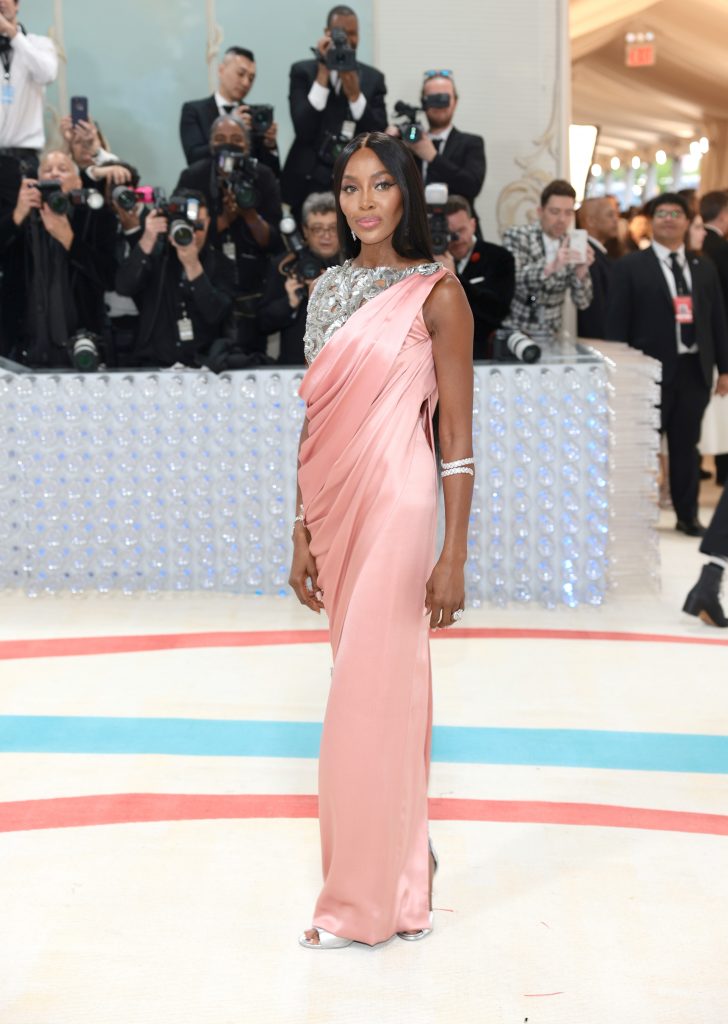 Anna Wintour
Anna Wintour & Bill Nighy heizen die Liebes-Gerüchteküche bei ihrem gemeinsamen Auftritt am Red Carpet der Met Gala 2023 an.
Bad Bunny
Bad Bunny ist derzeit wegen seiner angeblichen Beziehung zu Kendall Jenner in aller Munde. Das J auf seinem Rücken stand aber vermutlich nicht für Jenner, sondern für den Designer seines Outfits Jaquemus.
Dua Lipa
Dua Lipa war in diesem Jahr nicht nur Gast auf der Met Gala, sondern auch Co-Host. Deswegen musste auch viel Glamour auf den Carpet – inklusive einer 100-Karat-Halskette.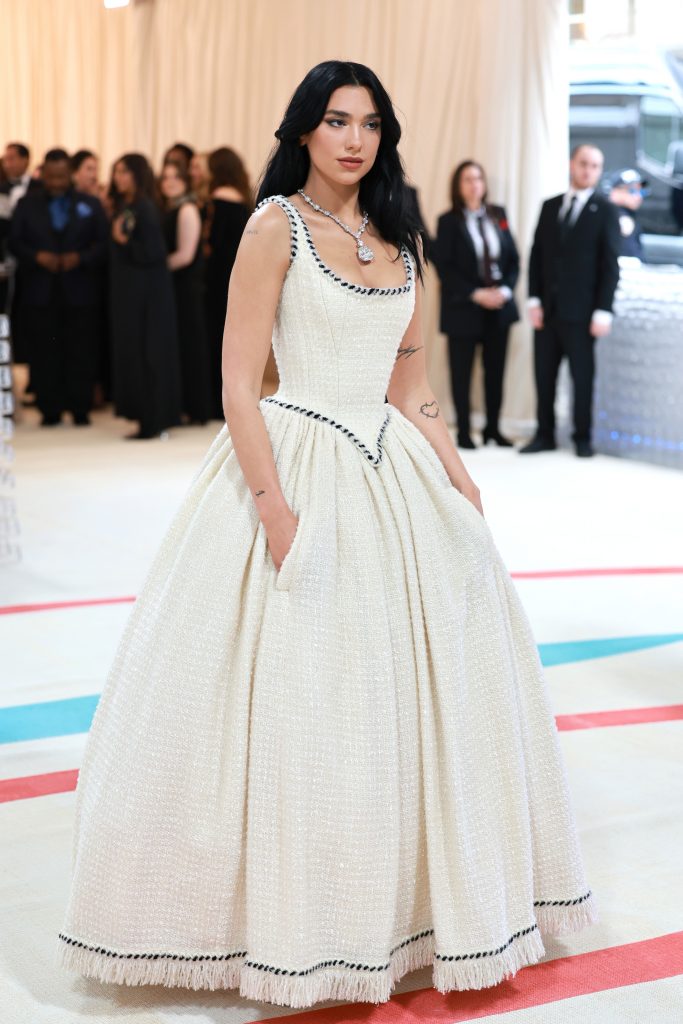 Gigi Hadid
Zu Ehren von Karl Lagerfeld erschien Topmodel Gigi Hadid ganz in Schwarz und mit Perlen geschmückt!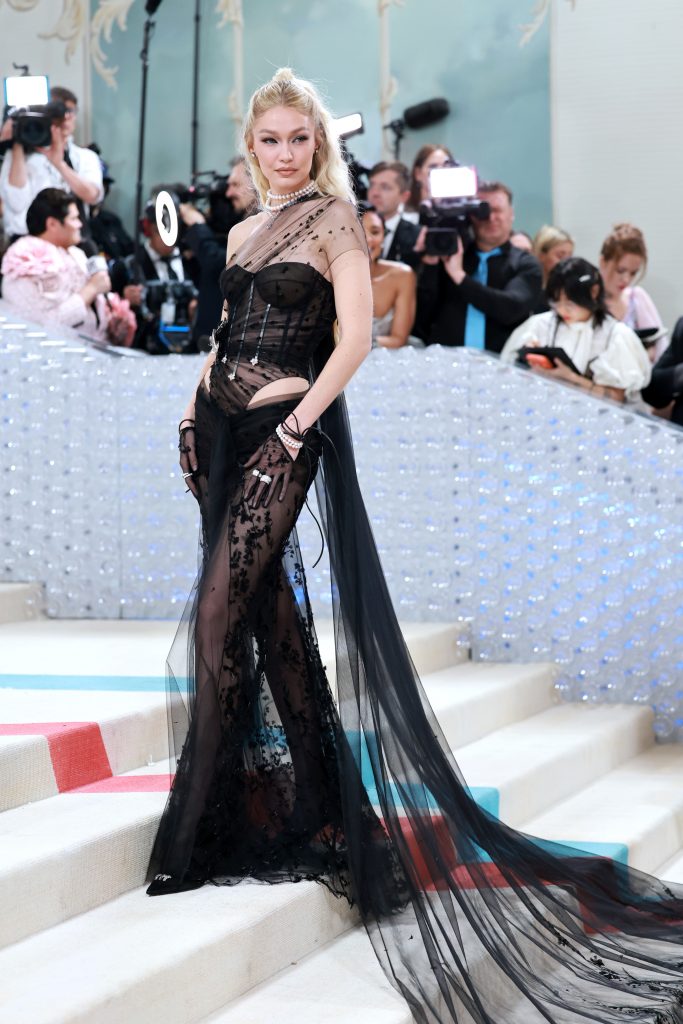 Billie Eilish
Bei ihrer dritten Met Gala mischte Billie Eilish Spitze mit ein bisschen Punk – und einem XXL-Zopf.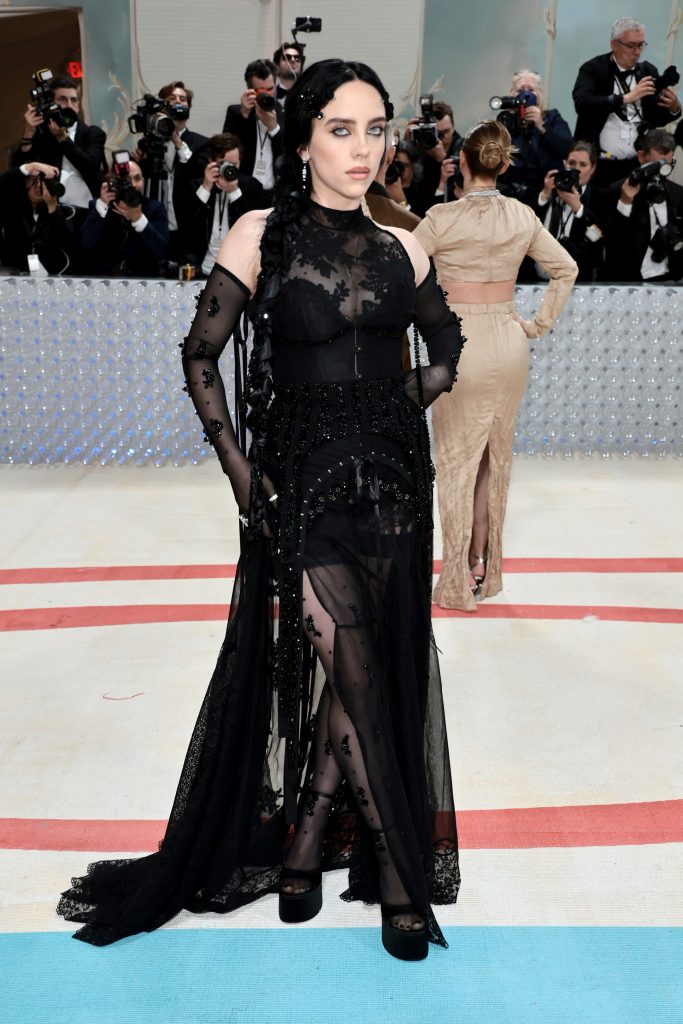 Kendall Jenner
Kendall Jenner rocking the Sixties in einem schwarzen Bodysuit von Marc Jacobs.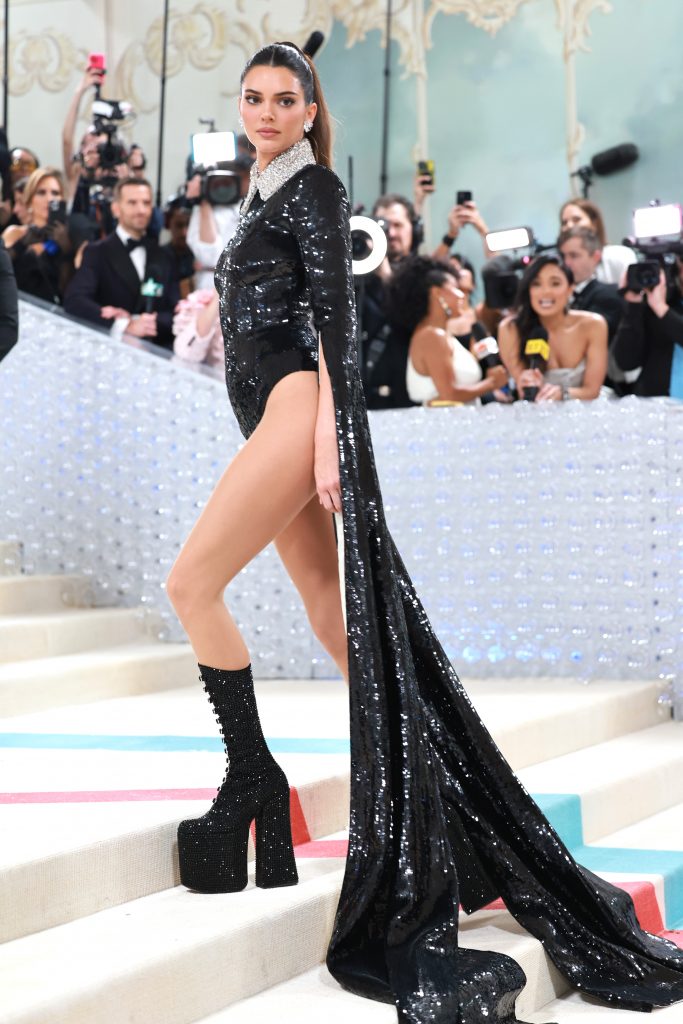 Kylie Jenner
Did someone say posing? Kylie Jenner in Jean Paul Gaultier.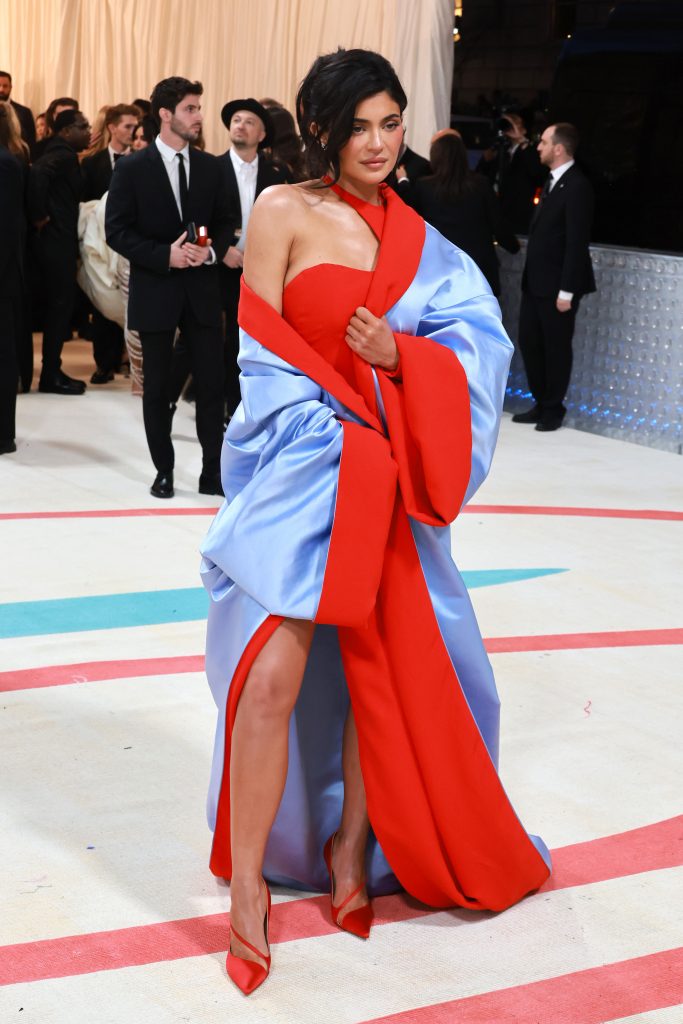 Kim Kardashian
Perlen und Shapewar – Kim K am Red Carpet der Met Gala.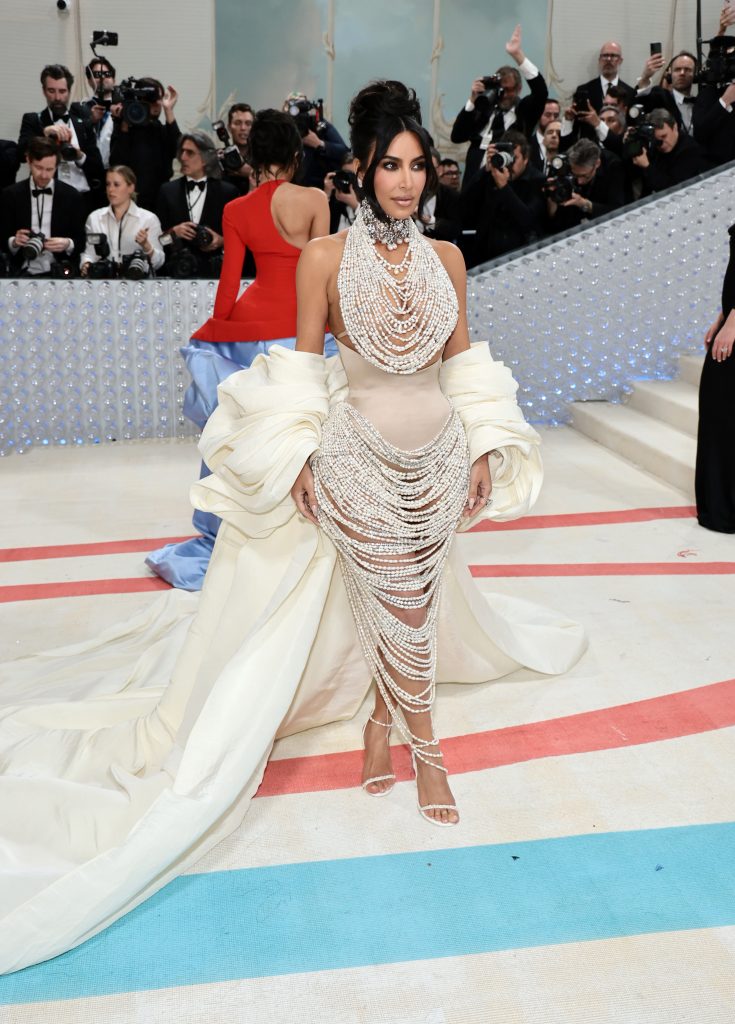 Lil Nas X
Lil Nas X bezauberte bei der Met Gala geschmückt mit unzähligen Glitzersteinen, Maske und XXL-Nägeln!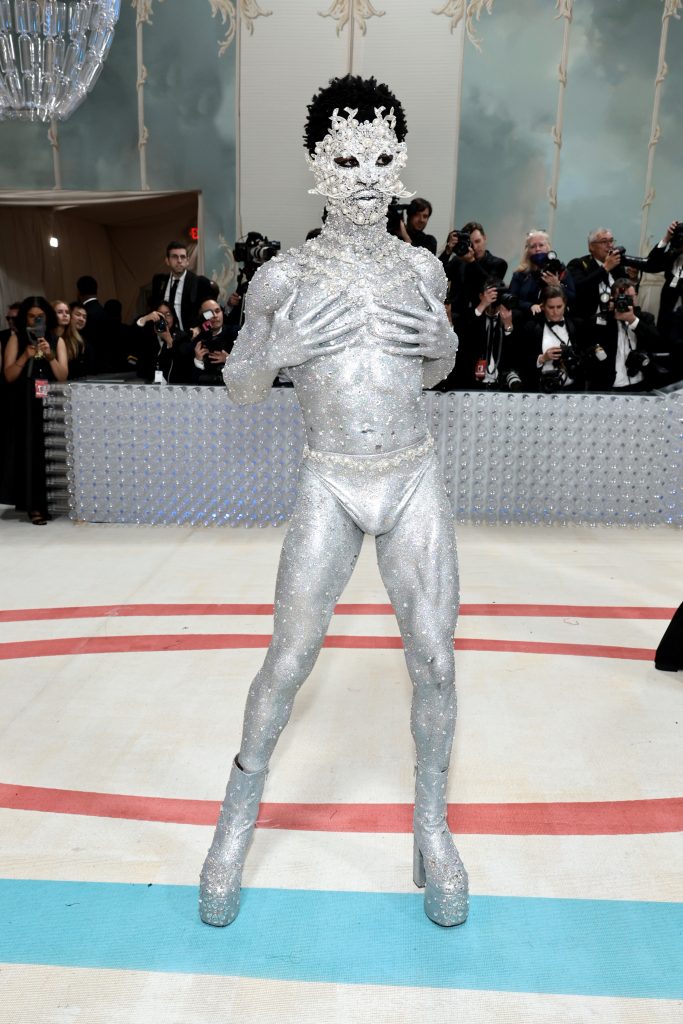 Kristen Stewart
Cool, cooler, Kristen Stewart! Die Schauspielerin erschien in Chanel.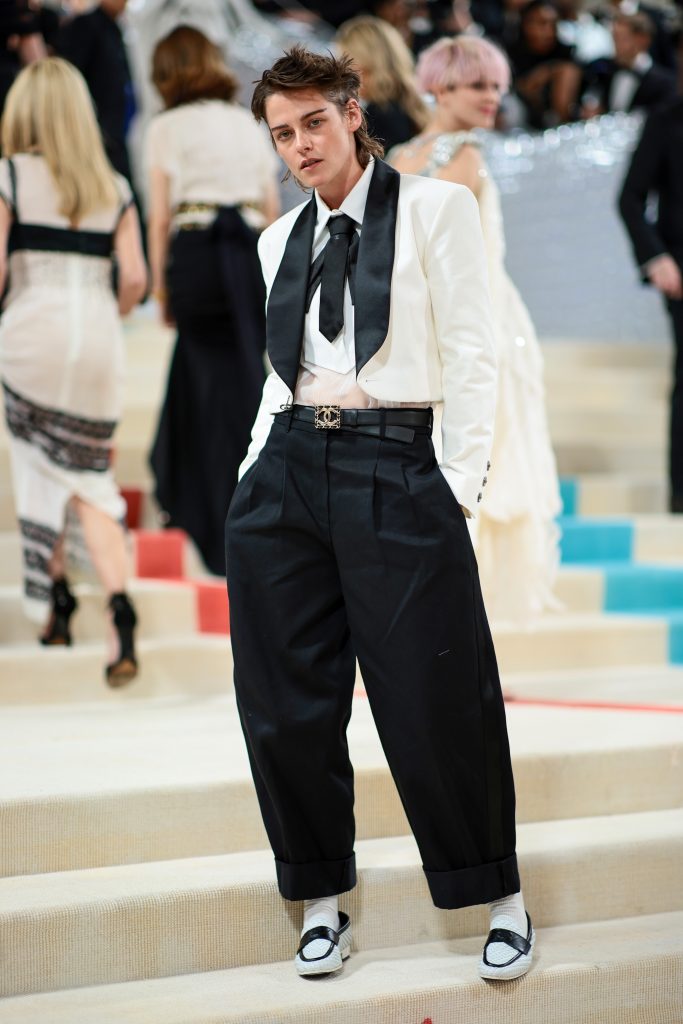 Bella Ramsey
"The Last of Us"-Star Bella Ramsey gibt schwarzen Anzügen ein ordentliches Upgrade mit einem bestickten Thom Browne Sakko.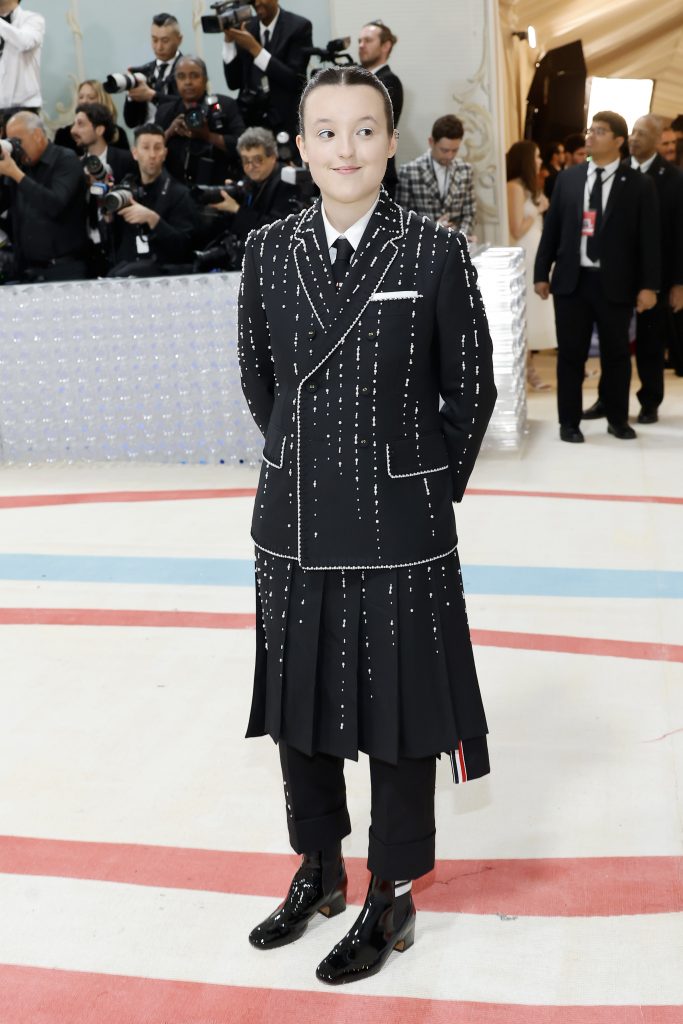 Gisele Bündchen
Hat sicherheitshalber gleich ihre Decke mitgebracht: Gisele Bündchen strahlt in Chanel.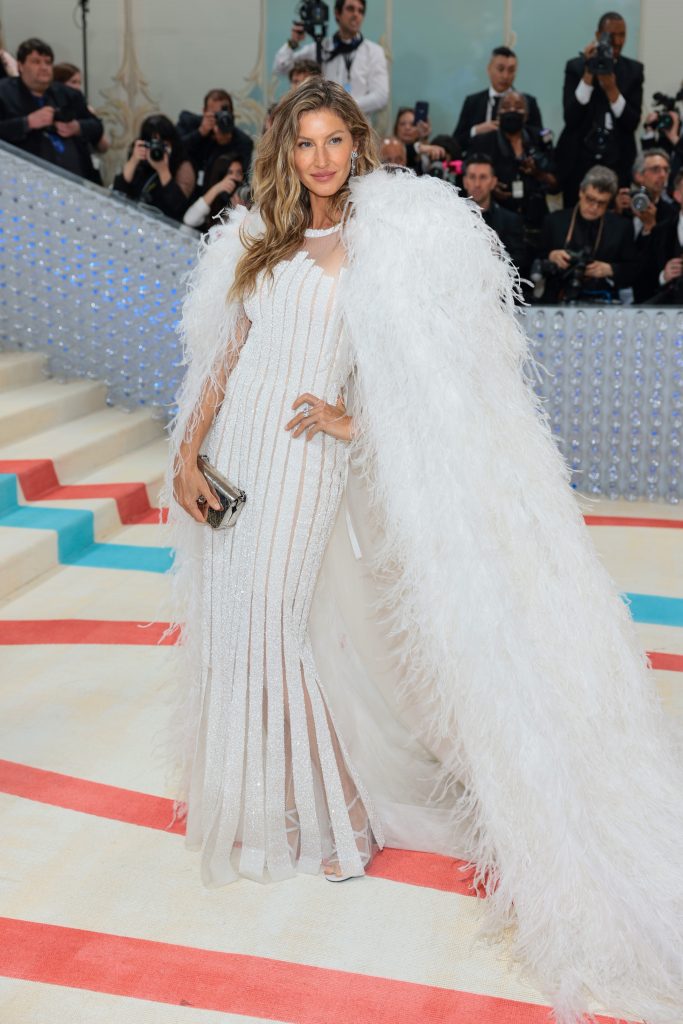 Emily Ratajkowski
Emily Ratajkowski in einer Robe von Tory Burch und mit Stirnfransen à la Audrey Hepburn.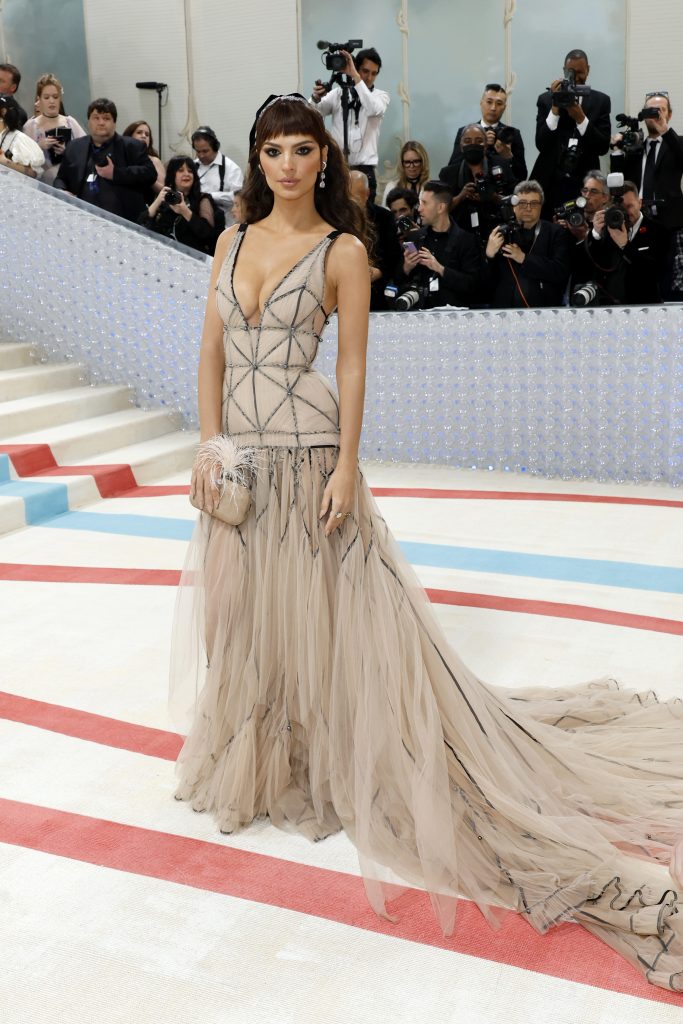 Margot Robbie
Always fabulous: Margot Robbie in einer Chanel-Robe aus der Frühjahrs-Kollektion 1993.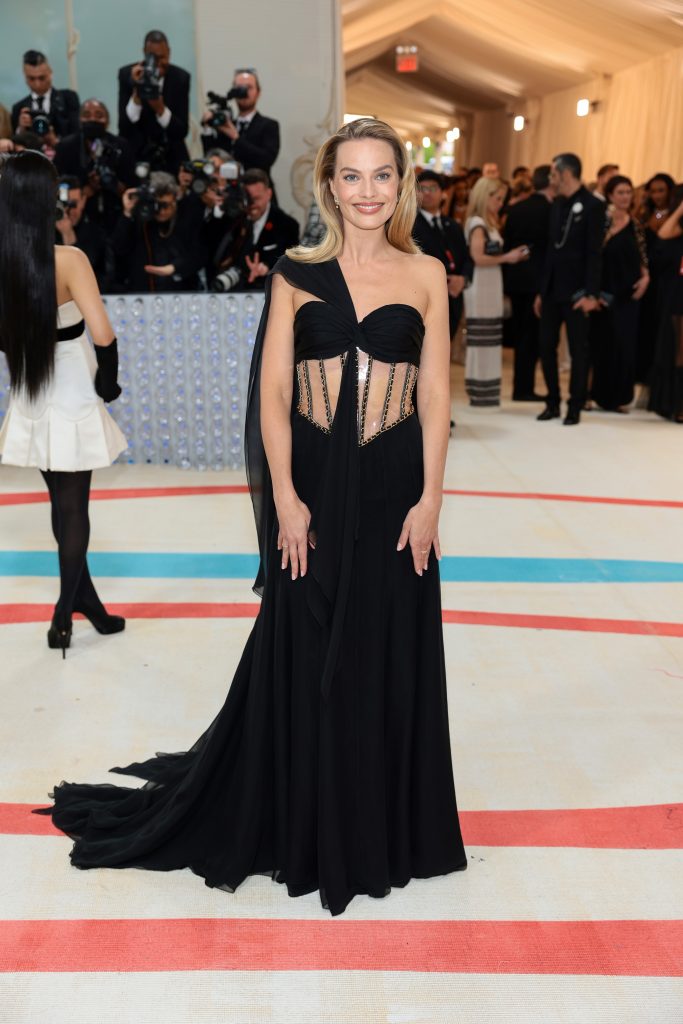 Olivia Rodrigo
Versprühte alten Hollywood-Glam: Olivia Rodrigo mit kurzem Pony in einer schwarz-weißen Blumenrobe von Thom Browne.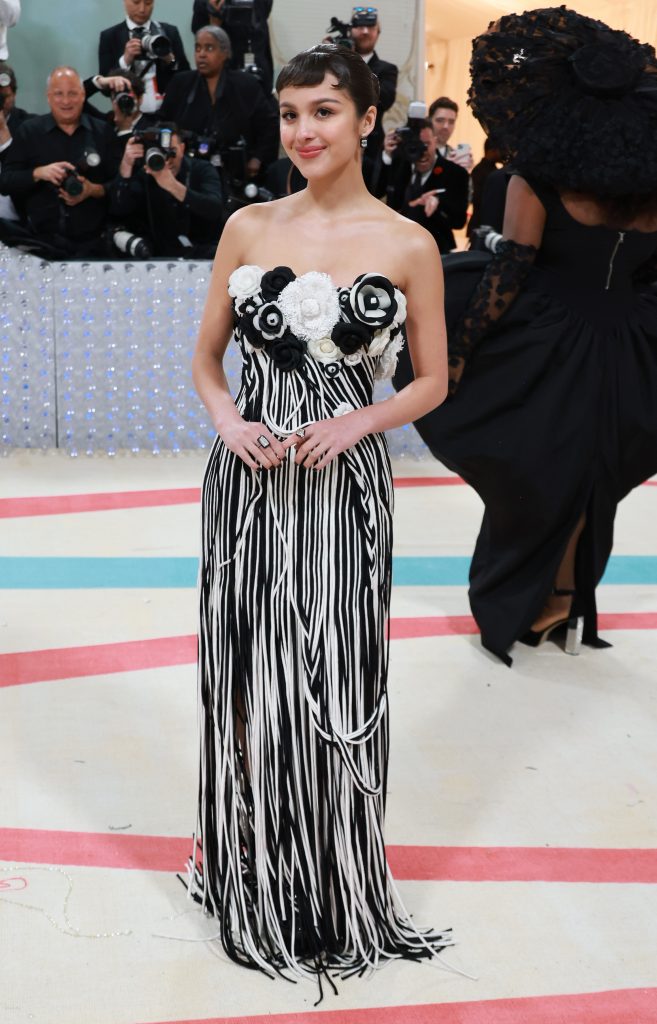 Cara Delevingne
Mit platinblondem Shag und – als eine seiner Musen – natürlich in Karl Lagerfeld: Cara Delevingne in einer schwarz-weißen Kombi und mit massiven Statement-Ärmeln.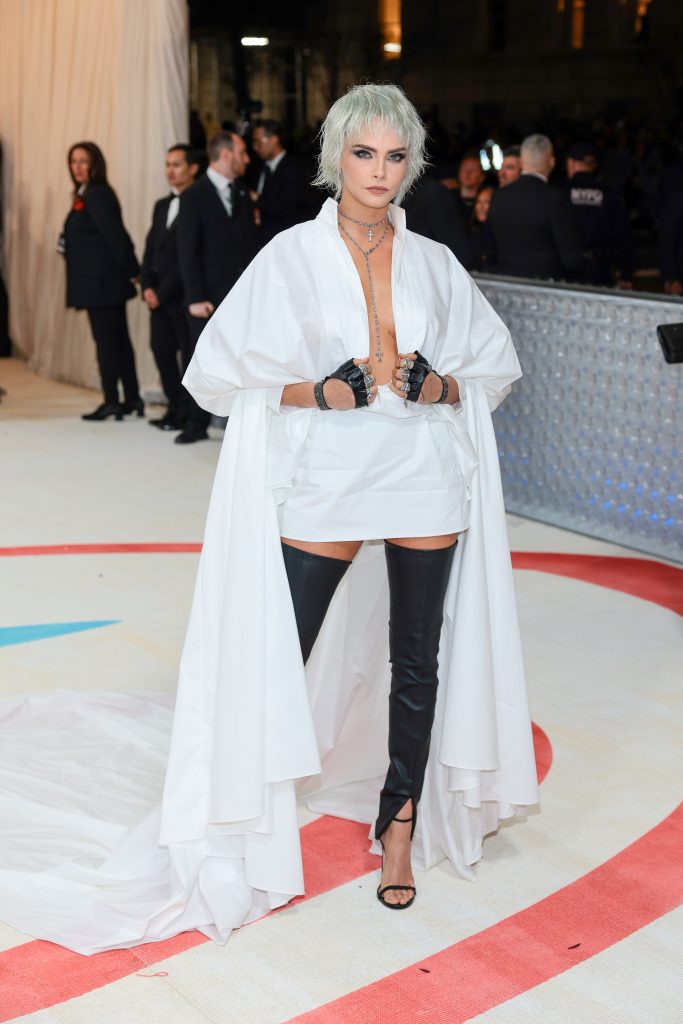 Cardi B
"Krawatte oder die größten Blumen, die man je auf einer Robe gesehen hat?" Cardi B: "Hold my beer!"
Die Rapperin zollte Karl Lagerfeld in einer Robe von Chenpeng Studio Tribut.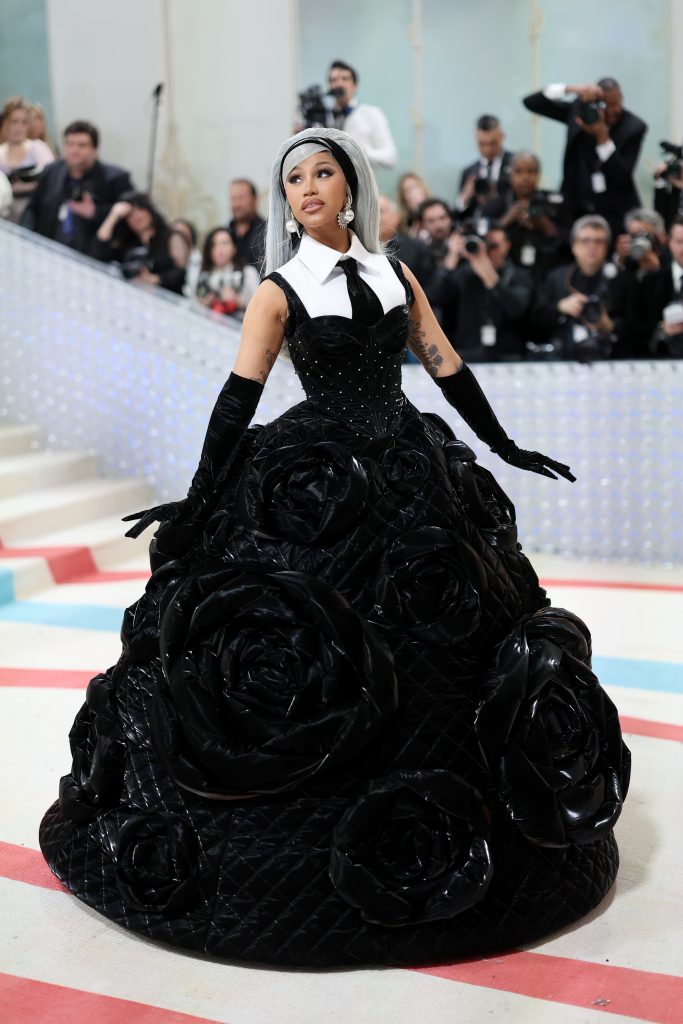 Olivia Wilde
Menschliche Geige: Olivia Wilde in einer Hommage an Karl Lagerfelds Entwurf von 1983 – damals noch für Chloé.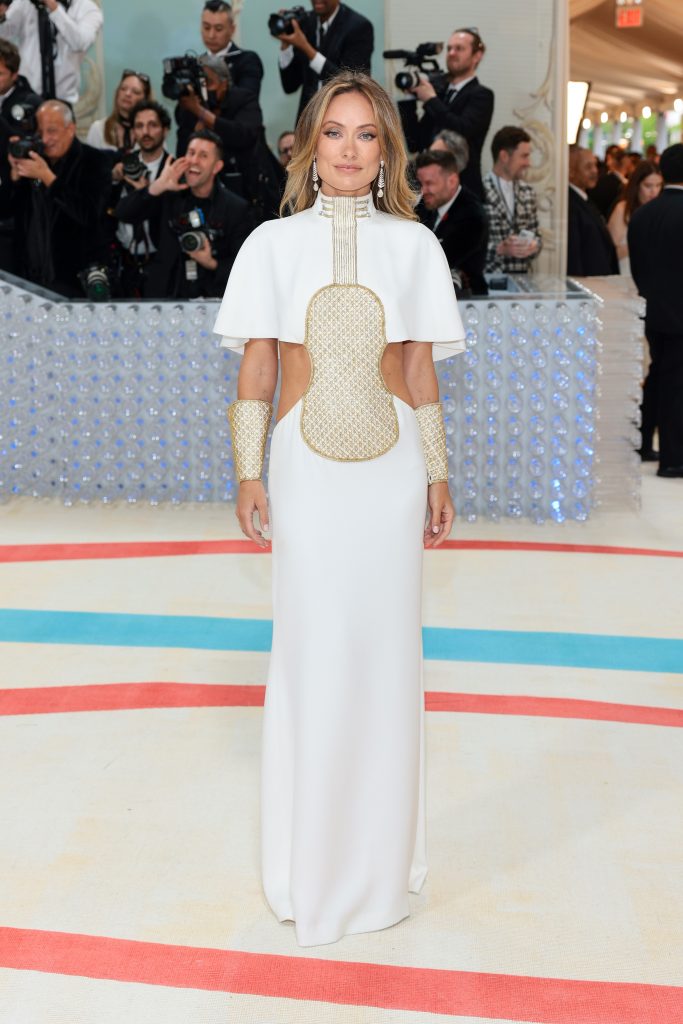 Jennifer Lopez
JLO ohne Cutout? Fast undenkbar! Frau Lopez zeigt wieder wie's geht und strahlt in Ralph Lauren und ohne Insta-Husband Ben Affleck.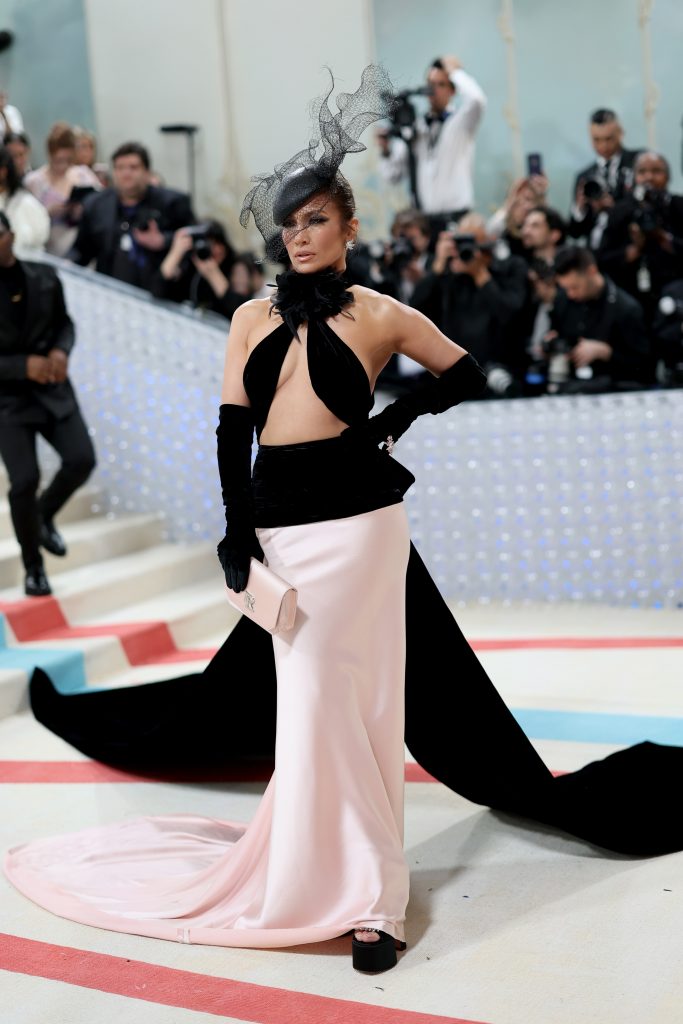 Paris Hilton
Kaum zu glauben, aber für Paris Hilton war es dieses Jahr die erste Met Gala! Die musste natürlich gebührend gefeiert werden – und zwar in Marc Jacobs.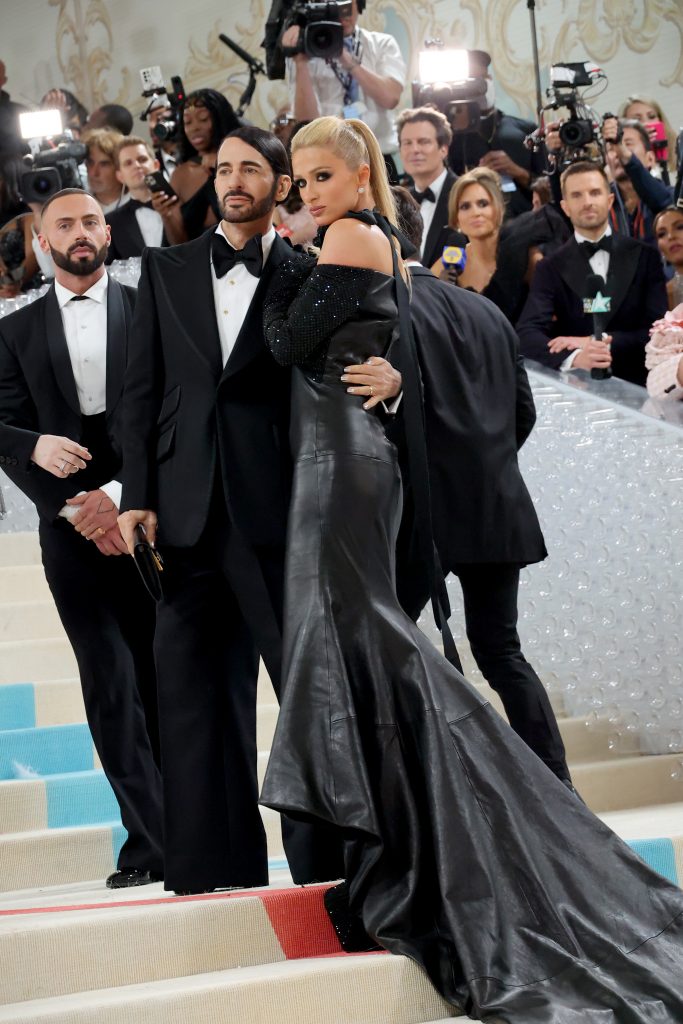 Rihanna & Asap Rocky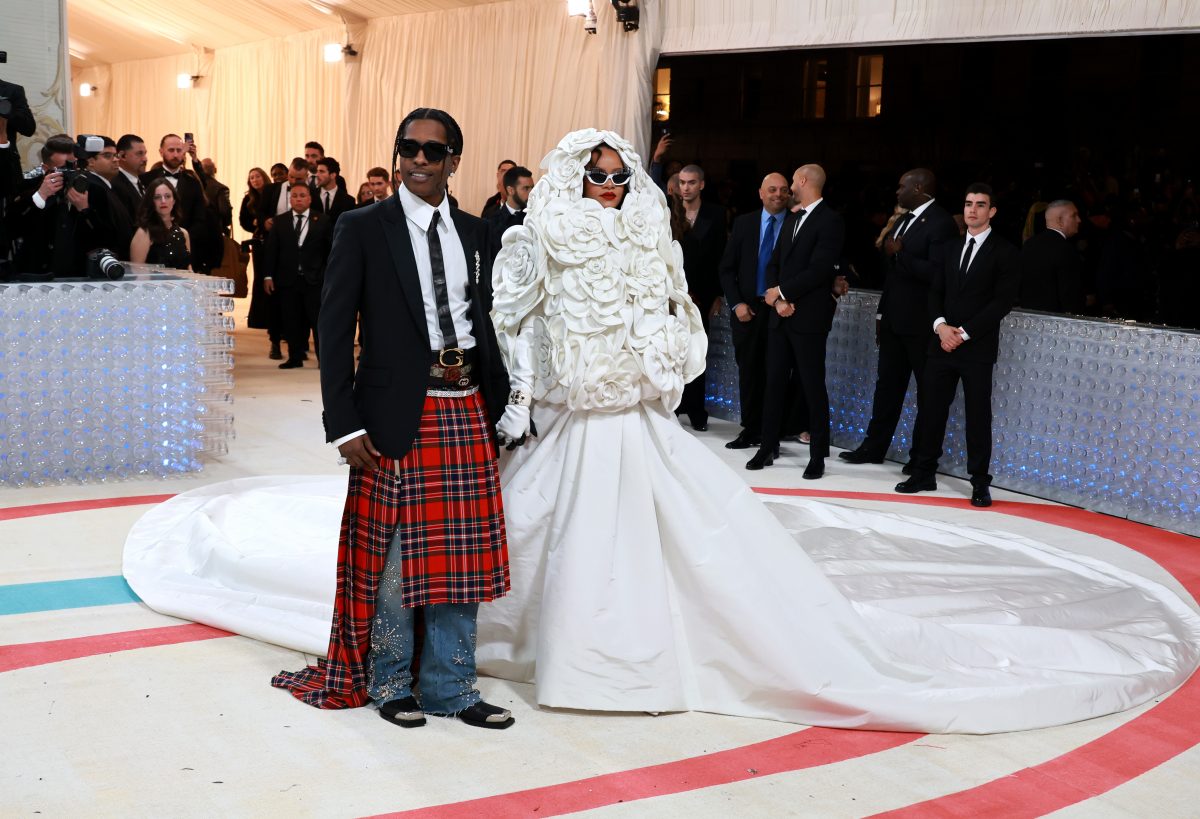 Janelle Monáe
Und die Transformation des Abends geht an: Janelle Monáe! Sie verwandelte ihren Mantel kurzerhand in ein durchsichtiges Kleid.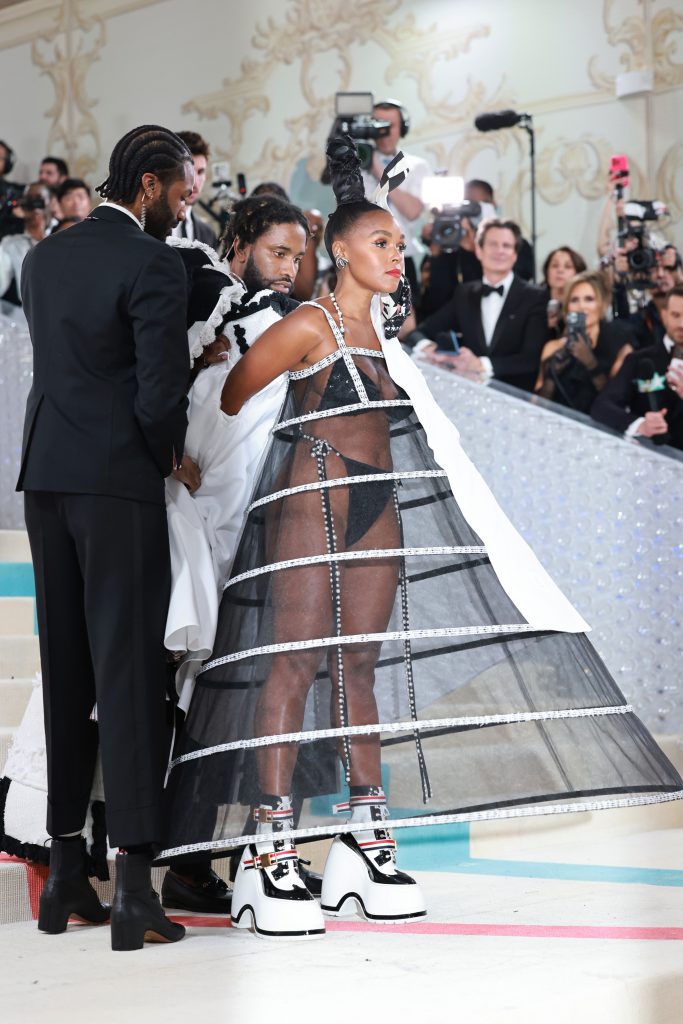 Jared Leto
Für den wohl außergewöhnlichsten Looks der Met Gala 2023 sorgte wohl Schauspieler Jared Leto. Der erschien nämlich direkt als Choupette verkleidet und stahl damit so manch schillernden Roben anderer Hollywood-Stars definitiv die Show.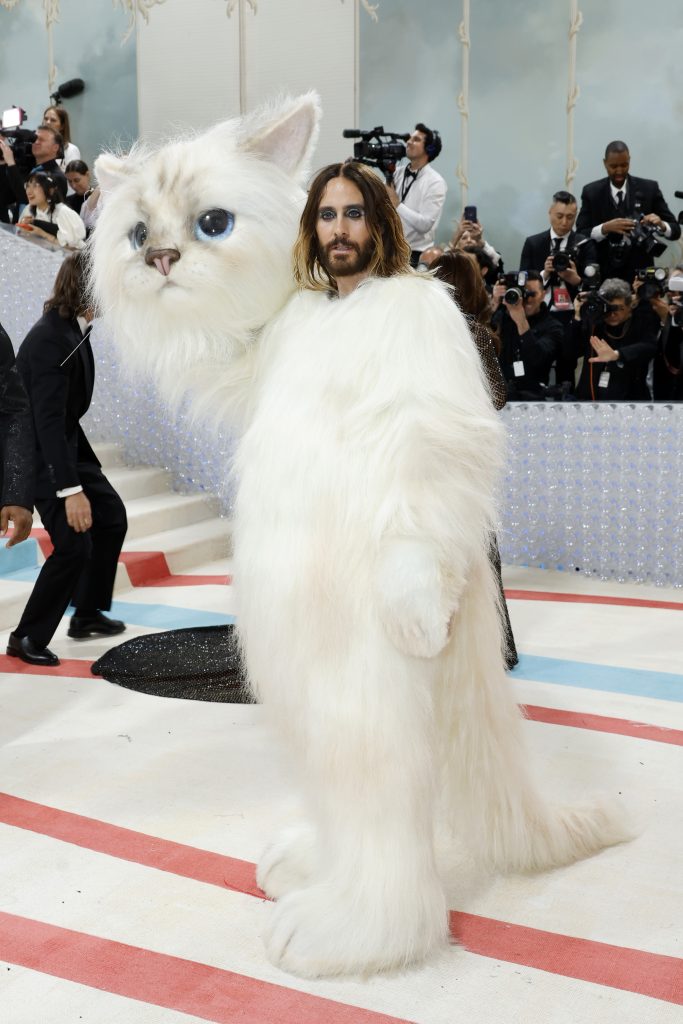 Doja Cat
Doja Cat wollte ihrem Namen wohl alle Ehre machen und erschien im Katzen-Cosplay – ein würdiger Choupette-Ersatz finden wir!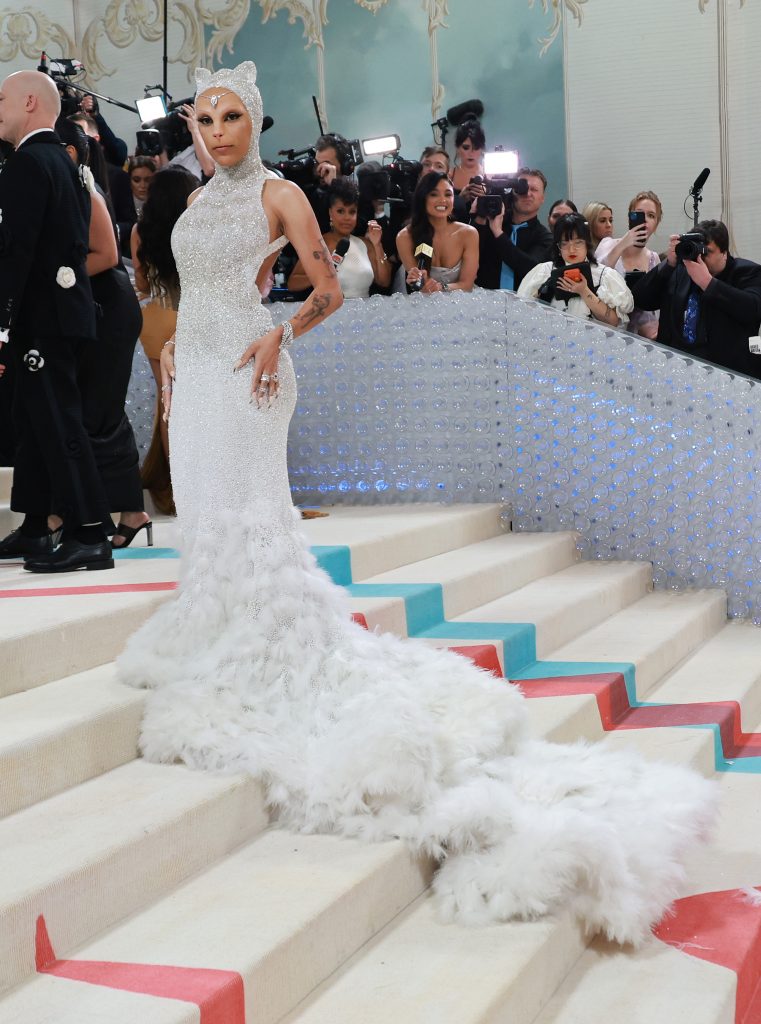 Penelope Cruz
Als Co-Host des Abends begeisterte Penélope Cruz in einem Chanel Haute Couture Kleid aus dem Jahr 1988 – eines von Karl Lagerfelds legendärsten Brautkleidern!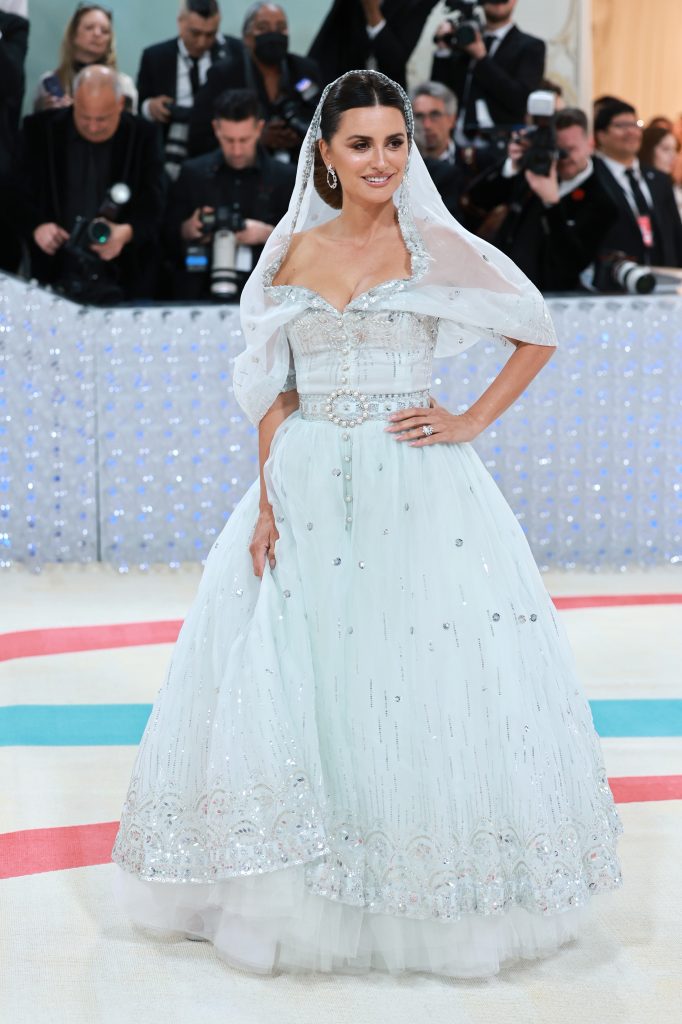 Kate Moss & Lila Moss
Kate Moss & Tochter Lila Moss in matching Fendi-Kleidern.
Pete Davidson
Pete Davidson bleibt seinem Stil treu und erscheint bei der Met Gala locker und leger.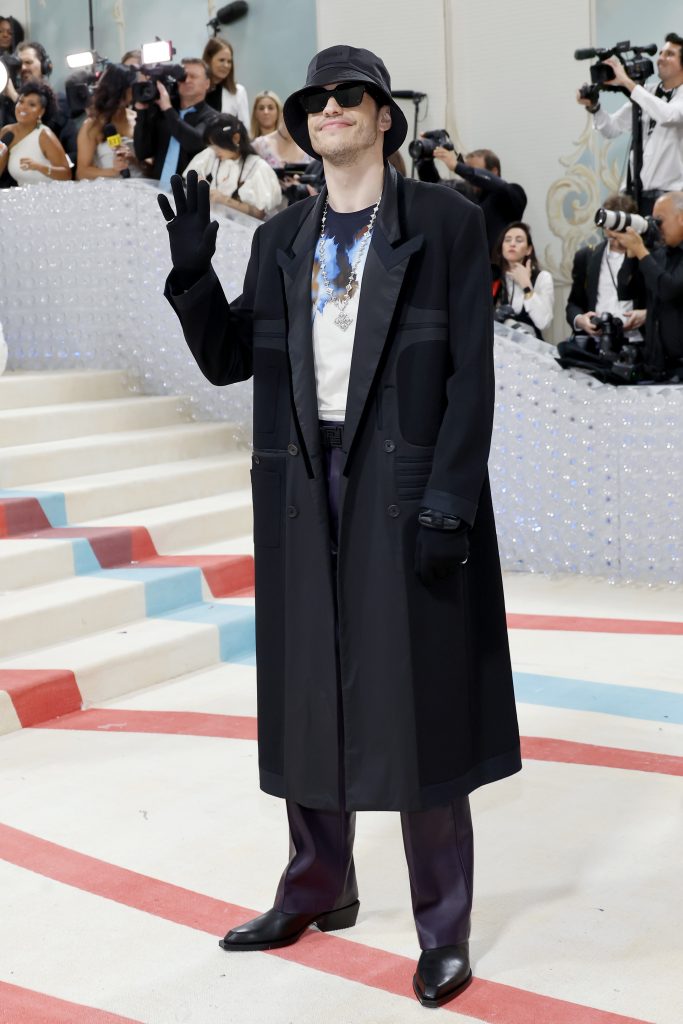 Jeremy Pope
Jeremy Pope kam mit Designer Olivier Rousteing und einer mehr als neun Meter langen Schleppe, die ein Portrait von Karl Lagerfeld zeigte. Ein absolutes Highlight des Abends!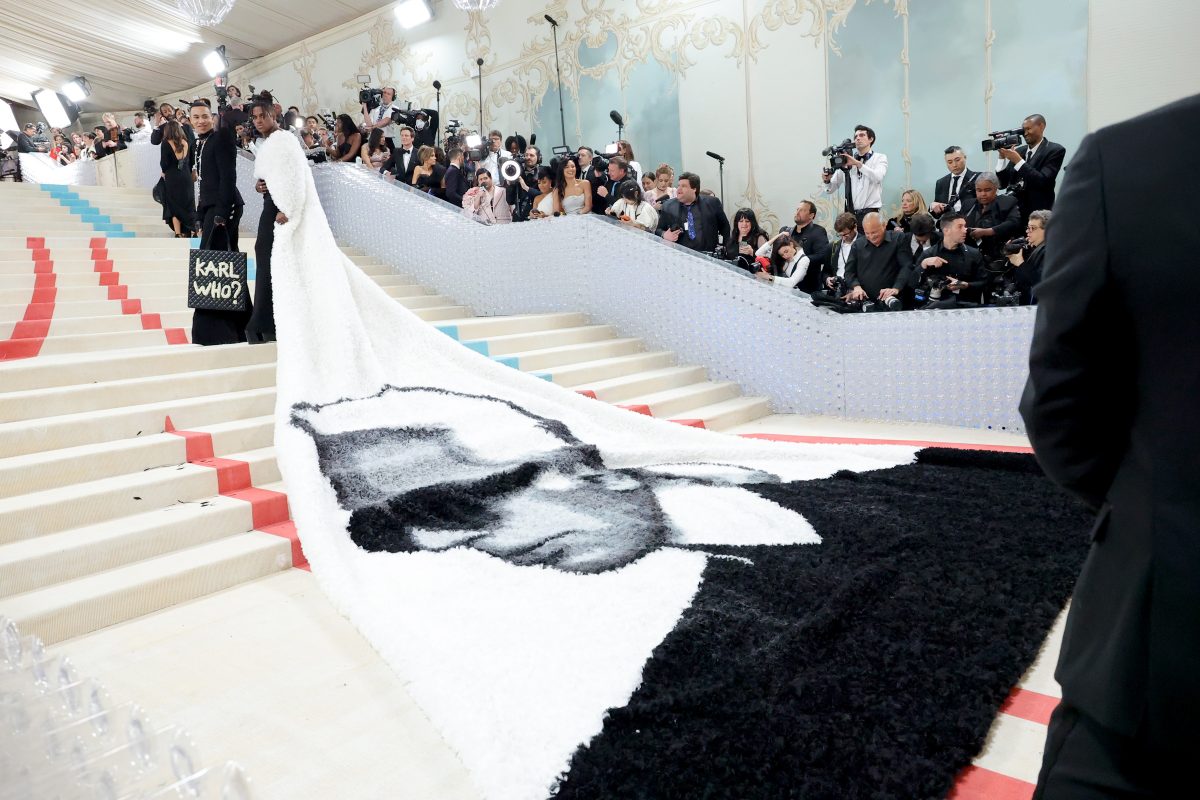 Robert Pattinson & Suki Waterhouse
Couple Alert: Robert Pattinson und Suki Waterhouse strahlen ganz verliebt auf dem Red Carpet – da kann man nur mitschwärmen!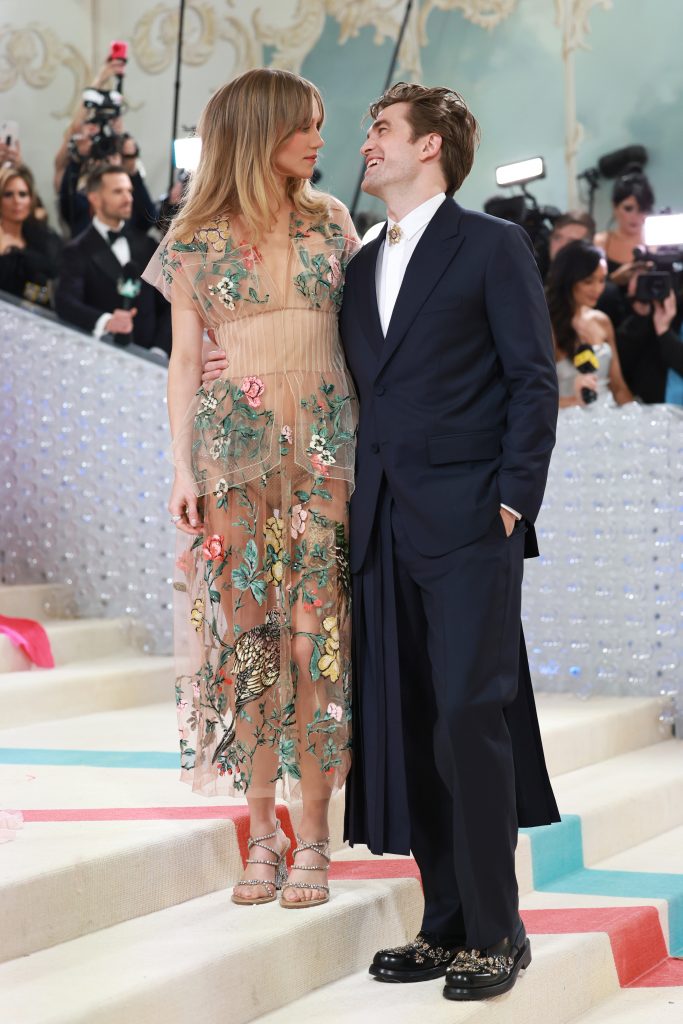 Lizzo
Perlen from head to toe – Lizzo in Chanel am Red Carpet der Met Gala 2023.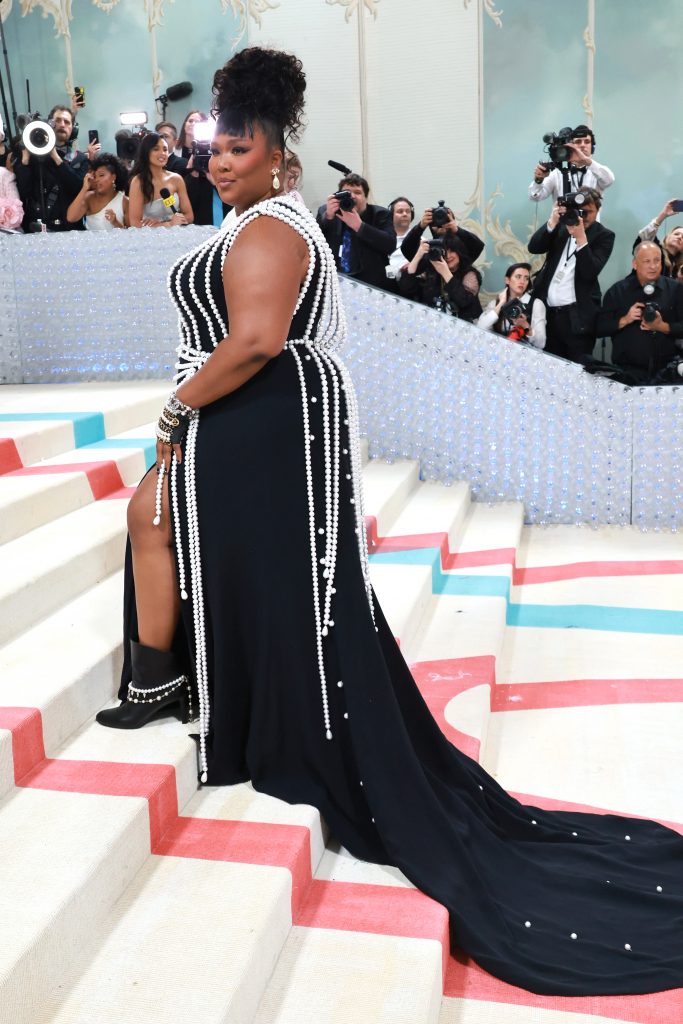 Die Sängerin sorgte übrigens auch für unseren #favoritemoment der diesjährigen Met Gala. "Who is this?", fragte sie sich sichtlich verwirrt, als sie Jared Leto im Choupette-Kostüm umarmte:
Noch mehr Looks und Videos vom Red Carpet der Met Gala 2023 findet ihr übrigens auf unserem TikTok-Account!